Click here to watch the exclusive Youngbees podcast with Chinmayi
The Covid 19 pandemic had a huge impact on all of us. An interesting thing to note was the participation of various age groups in raising awareness and spreading kindness. Be it old or young, everyone used their best capabilities to make people aware of what the virus is and how it functions!
One such individual who became an internet star through her awareness efforts is Chinmayi from Bangalore. Started at the tender age of 12, she is one of the youngest covid warriors of India. This is her story of motivation, inspiration and raising awareness!
Chinmayi Harsha of grade IX, from Samsidh MLZS, Vidyaranyapura, Bangalore, is a young motivational speaker. She has worked extensively as a young COVID warrior by giving short speeches in English, Hindi and Kannada to spread awareness about safety measures during the pandemic. She surprises everyone with her powerful, natural and well-articulated speeches. She is beating ADHD one day at a time and affirming that she would not let it beat her dreams and aspirations. 
Watch our conversation with Chinmayi by clicking here
She made a video with the 'Lakshman Rekha' concept from the Ramayana linking it to COVID safety measures in all the three languages- Hindi, English and Kannada. where she connected the dots of the pandemic to the Ramayana and its characters to make people aware. This lifted the spirits of the people suffering during the pandemic.
Her mentor Mr. Ajith Kaikini found it interesting and took the initiative to upload the videos on Facebook Buoyancee page. This went viral which in turn helped many people understand and overcome the fear of the pandemic by gathering courage and facing the situation. These videos also spread COVID awareness creatively for which she received many messages thanking and appreciating her.
Seeing a 12-year-old concerned about the situation and doing her bit to help them out was recognized by 'Lions Club' and Columbia Asia Hospital, which recognized her as the youngest COVID warrior. Chinmayi's efforts to support others and spread awareness have continued to escalate. 
Since then, Chinmayi has not looked back and wishes to change the world- through her skills and caliber. She aims to become a public speaker in the future and motivate as many individuals as she could.
Here's to more youngsters like Chinmayi wanting to change the world- one bit at a time!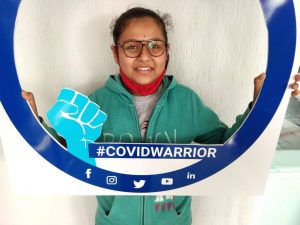 aidbees is proud and happy to be sharing such inspirational stories through our Youngbees Kindness Learning Program!

If you wish to explore more about Youngbees and register yours or another school with it, Click here and let's begin the journey towards a kinder school environment for kids.